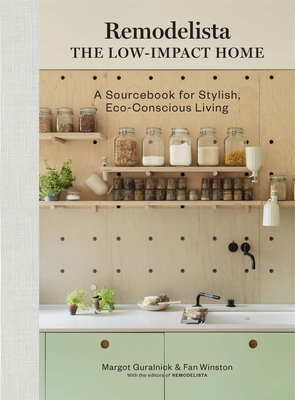 Remodelista: The Low-Impact Home: A Sourcebook for Stylish, Eco-Conscious Living
Publication Date:
October 4th, 2022
Righton Books
On hand, as of Jun 1 6:51am
(Home )
On Our Shelves - Available for Immediate Pickup or Shipping
Description
"Easy ideas . . . . The kind of guidebook we reference again and again. . . with recommendations for every single room in the house."
—Real Simple
 
Learn how to make planet-friendly choices at home with the design experts of Remodelista.com
Concerned about the state of the planet and wanting to do your part? Written with urgency, Remodelista: The Low-Impact Home gives clear guidance and inspiration for creating a home that's both sustainable and stylish. The book features room-by-room tips for reducing your environmental footprint, as well as tours of artful living quarters belonging to people who interpret low-impact living in a myriad of ways, from a remodeled apartment inspired by the Slow Food movement to a tree-house cabin to a multigenerational courtyard compound.
Every page offers information that you can act on right away—including best practices for choosing household essentials, from lightbulbs to sofas; guidelines for a low-impact, energy-efficient remodel; and how to recycle or donate your castoffs so they don't end up in the landfill. Like all Remodelista books, this manual is both a visual delight and an invaluable resource.
 
Change begins in the home, and it's inspiring to learn how climate-aware living choices, no matter how small, contribute to the greater good.
 
Guidance includes:
Low-impact remodeling ideas and approaches for every room
Planet-friendly essentials: paint, rugs, bedding, furniture, and more
The Vintage 75: favorite tried-and-true objects for everyday use
Plus the lowdown on composting, energy-efficient appliances, insulation, HVAC, roofing, and more
Praise for Remodelista: The Low-Impact Home: A Sourcebook for Stylish, Eco-Conscious Living
"A handbook for living beautifully while minimizing your impact on the environment."
—Washington Post
 
"Easy ideas . . . . When we heard that the Remodelista team was coming out with a new book all about designing a less wasteful, more sustainable home, we knew this would be the kind of guidebook we reference again and again. . . . . [It] offers up advice for both more sustainable renovations and more eco-friendly everyday habits.."
—Real Simple
"Attainable ideas for living more sustainably. This info-packed book offers low-impact home remodeling tips, product repurposing options, composting advice, and more."
—Better Homes & Gardens Do It Yourself
 
"Living in an eco-friendly home can still be chic! Remodelista: The Low-Impact Home shows you how to maximize both beauty and sustainability."
—House & Home (Canada)
"Guralnick and Winston demonstrate how style and sustainability can coexist in this excellent guide to setting up a planet-friendly home. . . . This lovely, practical collection will be just right for green-minded designers."
—Publishers Weekly
"Being sustainable doesn't have to mean sacrificing style. That's the ethos behind Remodelista: The Low-Impact Home by Margot Guralnick and Fan Winston (Artisan, £31.99, out 4 October), and it's one that will interest anyone considering an eco-friendly project. As well as featuring homes dedicated to low-impact living, it includes a room-by-room guide to impactful swaps such as air-drying clothes rather than tumble-drying. There are simple DIY projects, a guide to buying vintage items, and advice on everything from healthy paint to upgrading windows."
—Grand Designs (U.K.)