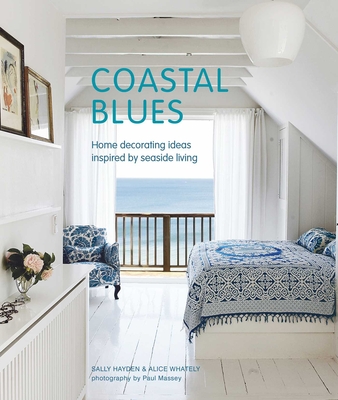 Coastal Blues: Home decorating ideas inspired by seaside living
Publication Date:
June 30th, 2020
Publisher:
Ryland Peters & Small
Description
Coastal Blues is a magnificent celebration of shoreside homes around the globe, offering decorative inspiration for all of us who love the ocean or dream of living by the sea.
Covering homes from as far apart as the Bahamas and Denmark, authors Sally Hayden and Alice Whately begin by looking at the essential components of the coastal look—color and texture, materials, furniture, fabrics, accessories, and display. The second part of the book, The Spaces, takes a tour through the home room by room, from Living Spaces, Cooking and Eating Spaces to Bedrooms, Bathrooms, and Outdoor Spaces, capturing the informal, easy-going interior style associated with living at the water's edge. But Coastal Blues is not only for those who live by the ocean. Whatever and wherever your home, from a high-rise apartment to a newly built home, you can create a simple, informal beachy feel. From tranquil living areas to balmy bedrooms and shipshape kitchens, Coastal Blues covers all the aspects of decorative seaside style.
About the Author
Sally Hayden is an interiors and lifestyle stylist with a background in interior design. Formerly the lifestyle director at Eve magazine, she has worked on a number of magazines, including Vogue Living, Vogue Entertaining and Travel and Livingetc. Her first book for RPS was the best-selling Coastal Style. Sally grew up by the coast in Australia, but now lives in London with her husband and three children.
Sally Hayden is an experienced stylist who has worked on a wide range of publications, in particular Vogue Living (Australia) and Eve. Alice Whately, a former decor editor at Elle, is the author of Peaceful Spaces (Ryland Peters & Small). Both authors live in west London.