Staff Pick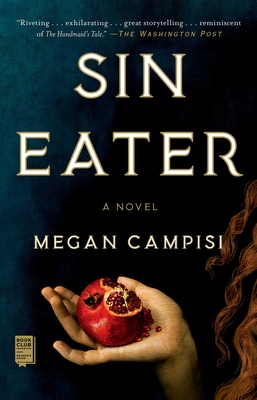 Sin Eater: A Novel
Publication Date:
April 13th, 2021
Righton Books
On hand, as of Sep 27 8:51am
(Books We Love )
On Our Shelves - Available for Immediate Pickup or Shipping
Oh my. Megan Campisi's Sin Eater completely took me by surprise. It is a wholly unique combination of fantasy, mystery, and historical fiction. Filled with intriguing characters and vivid imagery, this inventive tale will immerse readers in the deceit and intrigue of the royal court. Campisi's narrator is what really sets this novel apart — the sin eater, a woman called to hear the sins of the dying and consume the foods that represent them. A dark, thrilling read!
April 2020 Indie Next List
Description
"For fans of The Handmaid's Tale...a debut novel with a dark setting and an unforgettable heroine...is a riveting depiction of hard-won female empowerment" (The Washington Post).
The Sin Eater walks among us, unseen, unheard
Sins of our flesh become sins of Hers
Following Her to the grave, unseen, unheard
The Sin Eater Walks Among Us.
For the crime of stealing bread, fourteen-year-old May receives a life sentence: she must become a Sin Eater—a shunned woman, brutally marked, whose fate is to hear the final confessions of the dying, eat ritual foods symbolizing their sins as a funeral rite, and thereby shoulder their transgressions to grant their souls access to heaven.
Orphaned and friendless, apprenticed to an older Sin Eater who cannot speak to her, May must make her way in a dangerous and cruel world she barely understands. When a deer heart appears on the coffin of a royal governess who did not confess to the dreadful sin it represents, the older Sin Eater refuses to eat it. She is taken to prison, tortured, and killed. To avenge her death, May must find out who placed the deer heart on the coffin and why.
"Very much reminiscent of The Handmaid's Tale…it transcends its historical roots to give us a modern heroine" (Kirkus Reviews). "A novel as strange as it is captivating" (BuzzFeed), The Sin Eater "is a treat for fans of feminist speculative fiction" (Publishers Weekly) and "exactly what historical fiction lovers have unknowingly craved" (New York Journal of Books).
Praise for Sin Eater: A Novel
One of the Most Anticipated Books of 2020.  Lit Hub
"A riveting description of hardwon female empowerment that weaves together meticulous research, unsolved murder--and an unforgettable heroine.  Exhilarating...great storytelling...reminiscent of The Handmaid's Tale or Russell Hoban's great sui-generis sci-fi novel Riddley Walker."
— The Washington Post
"Sin Eater is a dark and thrilling page turner that turns a dystopian eye on the past in an unnervingly contemporary way. All hail Megan Campisi and her smashing novel." 
— Emma Donoghue, New York Times bestselling author of Room and Akin
"An in-depth, lyrical exploration of the forced reinvention of a teenage girl, ripped from her normal existence into a life of shifting public sins into feminine flesh, literally. Sin Eater is a thrilling surprise - Megan Campisi uses the history of  patriarchal injustice to create a keenly researched feminist arc of unexpected abundance, reckoning, intellect, and ferocious survival."
— Maria Dahvana Headley, New York Times bestselling author of The Mere Wife
"The Name of the Rose meets Wolf Hall in this brilliant, bewitching novel. Megan Campisi conjures a deliciously warped version of sixteenth-century Britain: Tudor England in a funhouse mirror. Her heroine, a young girl cruelly rendered pariah, is ingeniously sketched and achingly real. Ms. Campisi has created a dark, rich story replete with humor, unforgettable characters, and arcane mysteries. It casts a spell on your heart and mind until the final page." 
— Jennie Melamed, author of Gather the Daughters
"Rich with imaginative and historical details, Sin Eater is part mystery, part horror, and—ultimately—a timeless story of one woman regaining her power. I loved this from beginning to end." 
— Christina Dalcher, author of Vox
"A dark, propulsive novel that twists your stomach in all the right ways." 
— Lit Hub
"Sin Eater is a fully fleshed work of speculative fiction, abundant with the fine details of Elizabethan life and, of course, food. May is a damaged and sympathetic heroine, at once intelligent and innocent. This is an opulently imagined debut, horrific and weirdly beautiful, filled with earnest feeling as well as cruelty. Set aside time to read this engrossing novel in one go."
— Shelf Awareness
"The atmospheric, historical fantasy setting combined with May's jarringly eccentric personality creates a novel as strange as it is captivating."
— BuzzFeed
"Dark and evocative."
— Pop Sugar
"A Tudor banquet of a novel...its center the desiring, devouring, life-giving, murdering, and dying female body."
— Historical Novels Review
"An original novel that will keep you on the edge of your seat."
— BookReporter
"Sin Eater by Megan Campisi: A dystopian story about a girl in 16th century England that is sentenced to work as a 'Sin Eater, people who cannot be touched or spoken to and whose job is to hear the final confessions of the dying while eating foods symbolizing their sins so their souls can be admitted to heaven.' Think a cross between Margaret Atwood and Umberto Eco with this one, and it is a phenomenal read."
— Palm Beach Post
"Magnificent...complex, vivid... This vision of Renaissance outsiders is exactly what historical fiction lovers have unknowingly craved."
— New York Journal of Books
"[A] rousing, impressive debut… Campisi's stirring portrait of injustice is deepened by May's cleverness, frustration, and grief. This spellbinding novel is a treat for fans of feminist speculative fiction."
— Publishers Weekly
"Very much reminiscent of The Handmaid's Tale. In this way, it transcends its historical roots to give us a modern heroine. Richly imaginative and strikingly contemporary."
— Kirkus Reviews
"Campisi shapes a tale of folk customs, dark superstitions, and feminine power… Recommend this debut, an original melding of mystery and alternate history, to admirers of Karen Maitland's folklore-infused medieval thrillers and Diane Setterfield's Once Upon a River."
— Booklist
"Simply riveting."
— Midwest Book Review
"Sin Eater turns shame into a superpower."
— Bitch Media