Discounted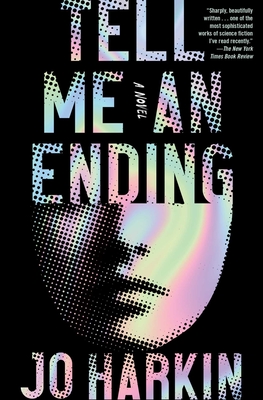 Tell Me an Ending: A Novel
Previous price:

$18.99
Current price:

$18.00
Publication Date:
January 24th, 2023
Righton Books
On hand, as of Feb 2 9:51pm
(Fiction )
On Our Shelves Now
A compelling examination of the power and importance of memories, and the question of how much of our self would change if we could control which memories we keep and which we discard.
March 2022 Indie Next List
Description
Named a Best Science Fiction Book of 2022 by The New York Times
"Sharply, beautifully written." —The New York Times Book Review
"Intriguing, frightening, witty, and humane." —The Wall Street Journal
Black Mirror meets Severence in this thrilling speculative novel about a tech company that deletes unwanted memories, the consequences for those forced to deal with what they tried to forget, and the doctor who seeks to protect her patients from further harm.
What if you didn't have to live with your worst memories?
Across the world, thousands of people are shocked by a notification that they once chose to have a memory removed. Now they are being given an opportunity to get that memory back. Four individuals are filled with new doubts, grappling with the unexpected question of whether to remember unknown events, or to leave them buried forever.
Finn, an Irish architect living in the Arizona desert, begins to suspect his charming wife of having an affair. Mei, a troubled grad school dropout in Kuala Lumpur, wonders why she remembers a city she has never visited. William, a former police inspector in England, struggles with PTSD, the breakdown of his marriage, and his own secret family history. Oscar, a handsome young man with almost no memories at all, travels the world in a constant state of fear.
Into these characters' lives comes Noor, a psychologist working at the Nepenthe memory removal clinic in London. The process of reinstating patients' memories begins to shake the moral foundations of her world. As she delves deeper into how the program works, she will have to risk everything to uncover the cost of this miraculous technology.
A provocative exploration of secrets, grief, and identity—of the stories we tell ourselves—Tell Me an Ending is "an intellectually and emotionally satisfying thriller" (Booklist).
Praise for Tell Me an Ending: A Novel
"We're in the hands of a writer with a literary long view… Harkin seizes the opportunity to subvert expectation… An excellent first work by a promising new author." —Locus
"A cleverly conceived and wonderfully executed ensemble piece: intriguing, frightening, witty and humane." —Wall Street Journal
"Sharply, beautifully written and punctuated with wry, slanted asides, Tell Me an Ending is one of the most sophisticated works of science fiction I've read recently. It's full of tender portraits of people who aren't inherently admirable or great—people who are bitter, jealous, anxious, taciturn—as they navigate the core question of who they are, with or without their memories. But there's a deeper question, too, subtle as a pulse beneath each chapter's skin: Where does memory live? Is it a node of synapses in the brain, or is it something more distributed—something in the stories we inherit, the stories we choose, the stories we choose to leave behind?" —Amal El-Mohtar, New York Times Book Review
"Revelations regarding identity, grief, and secrets prove to be both liberating and devastating." —Esquire
"As thought-provoking as it is suspenseful." —CrimeReads
"A thrilling dystopian masterpiece. . . . unputdownable." —The Daily Hive
"An intriguing debut. . . . Harkin boldly imagines an eerily plausible present and masterfully probes several characters. . . . a thrilling speculative novel." —Shelf Awareness (starred review)
"This high-concept debut asks an interesting question: What if we could edit our memories? . . . Harkin builds a picture of a world radically altered by a controversial technology and of people who are learning that you can't change the past without impacting the present. An intellectually and emotionally satisfying thriller." —Booklist 
"A richly imagined debut. Harkin keeps the plot tight and times her reveals effectively. It adds up to a smart speculative outing." —Publishers Weekly
"Intriguing and compelling. . . . Interconnected storylines all arrive at the same conclusion: Messing with memory is messy business." —Kirkus Reviews
"An Important novel. . . . Jo Harkin does a masterful job. . . . this mind-bending debut will certainly make you think." —Book Reporter
"Clever and imaginative, Tell Me an Ending is a riveting and thought-provoking exploration of one of our most precious and fragile powers: the ability to remember the moments of our lives." —Karen Thompson Walker, author of The Dreamers
"An extraordinary novel—intelligent and searching, with deep questions about humanity, history and self. Expansive in its scope and themes, but never losing touch with its characters' hearts and minds, Tell Me an Ending is gripping, inventive, and a memory I'll never forget." —Emma Stonex, author of The Lamplighters
"Whip-smart and thoughtful with a dark vein of humor. Compulsively readable. I loved it." —Christina Sweeney-Baird, author of The End of Men
"A twisting, electric debut exploring the potential for a life without our most painful or regretful memories. Tell Me an Ending examines the intersection of self and memory—when chosen memories can be removed—and how what we attempt to leave behind eventually catches up with us." —Meredith Westgate, author of The Shimmering State
"A cautionary tale about technology making its way into the very depths of our personal lives, Tell Me an Ending is thought-provoking and utterly compulsive." —Tahmima Anam, author of The Startup Wife
"Suspenseful, richly imagined, and brimming with compassion, Jo Harkin's Tell Me an Ending poses tantalizing questions about technology, ethics, capitalism, memory, trauma, and fate. How far would we go to live a happier life? Who are we without the memories that have shaped us? A feat of ingenious, intricate world-building. I finished the last page desperate to discuss this brilliant novel with everyone I know." —Jessamine Chan, author of The School for Good Mothers