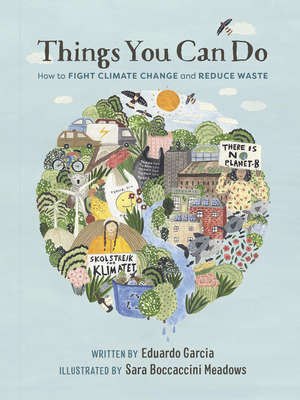 Things You Can Do: How to Fight Climate Change and Reduce Waste
Publication Date:
April 19th, 2022
Publisher:
Ten Speed Press
Description
Learn what things you can do right now to reduce your carbon footprint with this inspiring, accessible, stunningly illustrated book based on Eduardo Garcia's popular New York Times column.
 
"This beautiful and practical book on the climate crisis is for people of all ages, packed with wonderful pictures, powerful stats, and sound advice."—Mike Berners-Lee, author of There Is No Planet B
Award-winning climate journalist Eduardo Garcia offers a deeply researched and user-friendly guide to the things we can do every day to fight climate change. Based on his popular New York Times column "One Thing You Can Do," this fully illustrated book proposes simple solutions for an overwhelming problem. No lectures in Things You Can Do—just accessible and inspiring ideas to slash emissions and waste in our daily lives, with over 350 explanatory illustrations by talented painter Sara Boccaccini Meadows.
In each chapter, Garcia digs into the issue, explaining how everyday choices lead to carbon emissions, then delivers a wealth of "Things You Can Do" to make a positive impact, such as:
•  Eat a climate-friendly diet
•  Reduce food waste
•  Cool your home without an air conditioner
•  Save energy at home
•  Adopt zero-waste practices
•  Increase the fuel efficiency of your car
•  Buy low-carbon pet food
•  Hack your toilet to save water
•  Slash the carbon footprint of your online shopping
Delivering a decisive hit of knowledge with every turn of the page, Things You Can Do is the book for people who want to know more—and do more—to save the planet.
 
Printed on 100% recycled paper
Praise for Things You Can Do: How to Fight Climate Change and Reduce Waste
"This beautiful and practical book on the climate crisis is for people of all ages, packed with wonderful pictures, powerful stats, and sound advice."—Mike Berners-Lee, author of There Is No Planet B and How Bad Are Bananas?: The Carbon Footprint of Everything
"If you ever felt that climate science was intimidating, this is the book for you. It's approachable, positive, upbeat, and adorably illustrated."—Kathryn Kellogg, founder of the Going Zero Waste website and plastic-free living advocate
"Too often, climate action is framed as being either a question of individual responsibility or being entirely about systems-level interventions. The real truth is it's both/and—and Things You Can Do provides a plethora of engaging, accessible ways to get involved. The worst thing you can do is sit on your arse and feel guilty. So pick up this book, find an entry point that speaks to you, and then get to work."—Sami Grover, author of We're All Climate Hypocrites Now: How Embracing Our Limitations Can Unlock the Power of a Movement
"Solutions-based Things You Can Do illustrates—often quite literally—the myriad simple ways in which individuals can take action to help mitigate the climate crisis. Eduardo Garcia examines every aspect of modern living—from how we cool and heat our homes, to what we eat, to where we shop, to how we get around, to what we wear, and more. He offers sustainable alternatives that not only reduce carbon emissions but also happen to enrich our lives and bring us more joy."—Anne-Marie Bonneau, author of The Zero-Waste Chef: Plant-Forward Recipes and Tips for a Sustainable Kitchen and Planet
"This book is an environmental rhapsody, an incisive and visually beautiful empowerment story. Things You Can Do informs, inspires, motivates, and celebrates personal action. Each page offers a gateway to systemic change. Get it for everyone you know, from a month old to a hundred. It can help each of us cut a path through inertia and uncertainty to clear, certain progress."—Amanda Little, Vanderbilt University professor, Bloomberg columnist, and author of The Fate of Food: What We'll Eat in a Bigger, Hotter, Smarter World